Empowering learning and enablement through modern immersive technology experiences.



Impactful Learning Experiences
Providing a stimulative and demonstrative way to learn through cutting edge hands-on-labs that perform reliably and responsively.
Proven For Scale
Be it 10 instances or 10,000, we are equipped to deploy, manage, and support thousands of lab environments at scale.
Increased Market Outreach
With the freedom to access from anywhere, anytime, showcase your product to a wider customer base around the world.
Enable immersive content experiences that allow consistent and seamless engagement between content creators and customers through a virtual training platform, an online hands-on learning environment. CloudLabs is designed for organizations and educational institutes of all sizes to offer an impactful learning experience with zero to minimal management overhead.
HOL Platform
Build, deliver and consume custom technology labs.
Demos
Showcase your tech product with impactful scenarios.
Modernize Education
Designed for universities to modernize lab infrastructure & enable impactful upskilling through technology.
Event & Hackathons
Conduct impactful technology events and hackathon through CloudLabs and our event management services.
LMS Integration
Integrate with your preferred Learning Management Solutions or other systems.
Skill Validation
Validate Skills with CloudLabs Practice tests and evaluation platform.
Content Development
Developing simple yet powerful technology enablement content and courses.
Diverse Lab Catalogue
Ready-to-use Labs for Microsoft, Check Point, Security, Data Science and many more.
Adding Impact to Virtual trainings
CloudLabs is built from ground up to support virtual learning through technologies.
Access Anywhere
Virtual labs available across the globe with just a modern browser with internet connection.
Collaboration
Effective collaboration among participants, instructors, proctors in real-time.
Instructor Control
Instructors can manage the show effectively, the way it happens in physical classrooms.
24*7 Live Support
Our team is available 24*7 to provide instant support for any technical and non-tech problems.
We can help with enabling your learning and development programs in Covid Era.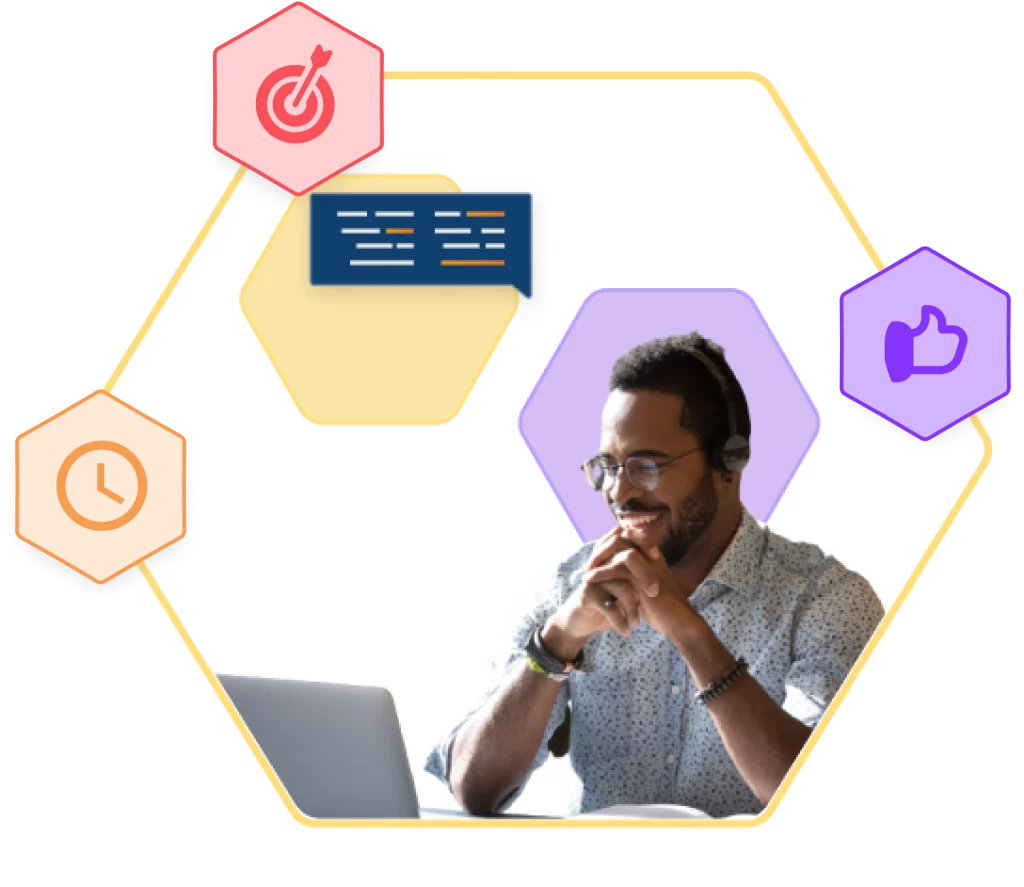 CloudLabs reinvents the way how technology experiences are delivered
Proven Lab Platform
CloudLabs is trusted by organizations and educational institutes worldwide
With CloudLabs MCT Pass, MCTs can now enjoy CloudLabs platform to prepare for their upcoming trainings and certifications exams.

MCT Pass is designed to help instructors get familiar with platform and be ready to deliver impactful trainings with powerful HOLs & Practice Tests.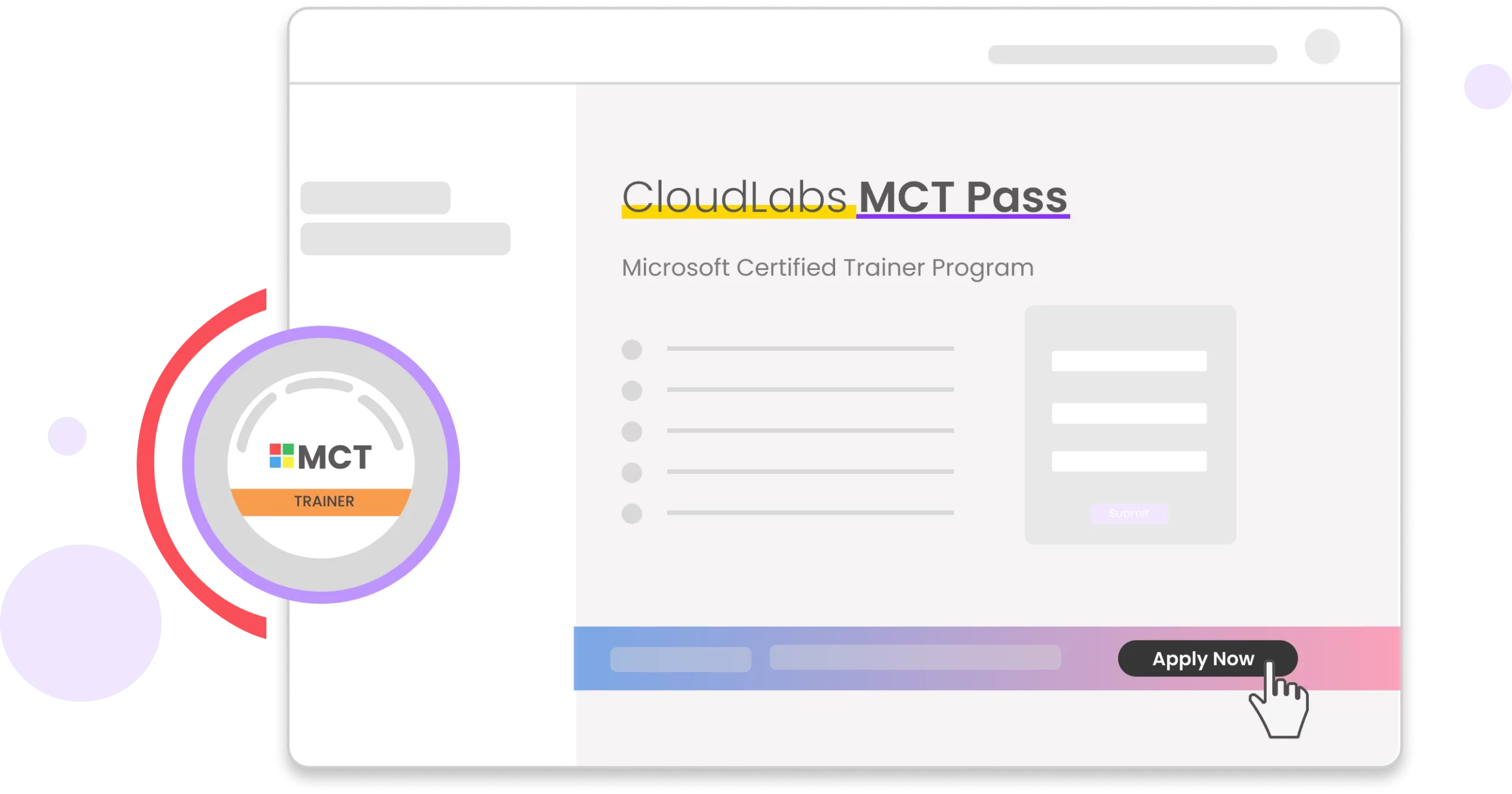 What our customers are saying about us
CloudLabs has been our go to platform for any hand-on lab experiences when it comes to customer and partner technical trainings and workshops. It eliminates the time and complexity involved in setting up labs and enables smooth experience for our all participants and trainers. The support from the CloudLabs team has been great with rapid response and support which has led to many successful workshops and trainings.
Håkan Forsberg
Cloud Solution Architect, Microsoft
We are incredibly pleased with our experience using CloudLabs by Spektra Systems. Their responsiveness and support have been nothing short of outstanding. They have demonstrated remarkable flexibility in accommodating our unique processes and challenges, resulting in a seamless and highly productive collaboration. Thanks to CloudLabs, we have successfully delivered Azure-related courses to a substantial number of students in various programs. Our collective satisfaction with their services has been beyond measure, and we look forward to continuing this fruitful partnership to further grow in the cloud industry in the future.
David Trinh
Academic Program Manager, School of IT Administration and Security, Seneca Polytechnic
Our company is working with CloudLabs for three years. The service allowed us to train our teams and partners over different products and cloud platforms, by provisioning timely based labs with the smoothed student experience.
Tal Ein-Habar
Cloud Security Expert, Check Point
CloudLabs platform leverages the public cloud platforms to host labs in a cost effective fashion, which can work for organizations of every size.
Latest
Topics.
Articles.
Tutorials.

Exclusively for you!
Articles from specialists to keep you updated with the latest news & our learning of running Labs at scale.
Strong Cost Controls
Leverage platform's cost budgeting, abuse prevention and limits functionalities to keep your cost under controls all the time.
Track your Cloud Spend
Drill through the labs cloud spend by business units, workshops, individual labs and people.
Eliminate Silos
No need to purchase cloud passes, credits, lab content separately, all your labs cost at one place.
Talk to us today for a live platform Demo and get your questions answered.
Impactful learning experiecnes are a demo booking away 🙂