The global average cost of a data breach in the year 2021 was USD 4.24 million according to IBM's Cost of a Data Breach Report. It is also the highest average cost per breach in the last 17 years. This new data security reality makes it even more important for students and professionals in the field of IT to master cybersecurity.
Cybersecurity is a field of IT associated with the management and prevention of data security incidents like digital trespassing, data theft, and hacking. To gain expertise, professionals not only need to perform trials without damaging a secure network, but they are also required to fend off external threats like hackers and malware without compromising safety.
Cybersecurity virtual labs help cybersecurity students get closest to real-life scenarios, helping them get an insight into their future careers. These virtual environments are highly flexible and versatile, and the allow learners to access the latest software programs required to upskill in areas like ethical hacking, without making any additional expenditure.
In this blog, we will deep-dive into the benefits of cybersecurity virtual labs in the backdrop of the ever-expanding domain of cybersecurity in education and discuss how CloudLabs can help in improving the learning process in this domain.
Let's get started.
What exactly are virtual labs?
Virtual labs are cloud-based labs focused on hands-on software learning via simulated real-world environments. A learner can use these labs to practice various aspects of cybersecurity and other IT topics while accessing them online from anywhere, at any time.
By using virtual labs for cybersecurity students can –
Secure data and applications while working in a highly flexible and versatile lab environment.
Access the latest software programs required in areas like ethical hacking, data security, digital forensics, and more without incurring additional cost.
Benefits of cybersecurity virtual labs in education
Virtual labs are in high demand, and they are very useful for learners looking to pursue cybersecurity as a profession because of the following benefits:
1. Safer labs (Sandbox environment)
Virtual labs create a separate environment for the learners to work on. This isolation ensures that no other data on the device is affected even if the learner makes mistakes. Instructors and learners can focus on their own work without worrying about data loss or other safety issues.
2. Hands-on experience in simulated environments
Learners gain experience by practicing first-hand instead of theoretical learning. Using the hands-on learning feature, trainees can practice in real-life scenarios and get the exact skills required by the industry.
3. Instant feedback to students
The instant feedback option for instructors in virtual labs helps learners follow the right steps without deviating. The speed of the feedback process also depends on the quality of the virtual lab.
4. Labs packed with latest technology
Cybersecurity instructors find it difficult to constantly upgrade the software and hardware just to match the ever-changing technological demands of the industry. With virtual labs, instructors do not need to stick with older technology as these labs automatically update themselves to the latest offerings to provide a seamless experience.
5. Accessible anywhere
Learners can undertake training by accessing the lab from anywhere with a device, a web browser, and an internet connection. It is entirely cloud-based and does not require downloads or physical labs.
6. Scalable
Virtual labs are highly scalable due to the absence of physical classrooms. No matter how many students or trainees are engaged at a time; the management can quickly configure and assign labs to all attendees.
7. Reduced maintenance cost
Virtual labs also remove the need for physical infrastructure. This significantly reduces the cost of maintenance and operations. It also saves the overall cost of the lab, while also saving the time spent for setting up the machines and maintenance.
How can CloudLabs help in enhancing education around cybersecurity?
CloudLabs eliminates the time spent and complexity involved in setting up hands-on labs for various IT courses, including cybersecurity.
What is CloudLabs?
It is a virtual lab platform that provides easy hands-on learning to the users thanks to its seamless and simple user interface. When learners work on CloudLabs, other important data on the system isn't affected as the virtual lab isolates itself with the rest of the system. Trainees can work on their labs without worrying about data loss.
Why CloudLabs?
Eliminates management overhead:
IT Admins, Lab Technicians, and Trainers spend a lot of time building and maintaining the labs, and they have to re-do them for each course, which is a lot of maintenance overhead. Along with this, it is difficult to maintain datacenters and hardware servers, but due to the virtual labs of CloudLabs, this is completely eliminated, which makes the life of the staff easier.
One of the most common challenges faced when giving lab experience to students is that they need to share an environment, which impacts their overall learning experience. CloudLabs provisions independent environments that can incorporate multiple members, and if the requirement is low, it can revert to the original number of members. With the help of this platform, a lab can be allocated to any number of members that join a lab environment within minutes.
Multiple labs can be deployed with complex configurations with agility to aid students and enhance their learning journey.
Users pay for only what they use instead of long-term subscriptions. If more resources are used, there will be more expenditure and if less resources are used, there will be less expenditure.
Instructors and learners can leverage CloudLabs progress tracking and other insights to continuously optimize and improve their skills.
CloudLabs provides 24*7 assistance to instructors with all platform-related problems to ensure a smooth experience.
Labs provided by CloudLabs for cybersecurity courses
CloudLabs provides multiple labs in different categories for courses around cybersecurity. They are listed below:
Ready To Use Labs
1. Check Point labs
This course is designed for security experts and Check Point resellers who desire to obtain the necessary knowledge required to perform more advanced troubleshooting skills while managing their security environment and are working towards their Check Point Certified Troubleshooting Expert (CCTE) certification.
The CCTA course is designed for security administrators and Check Point resellers who need to manage and monitor issues that may occur within their Security Management environment and are working towards their Check Point Certified Troubleshooting Administrator (CCTA) certification.
The CCAS course is designed for security engineers, developers, and Check Point resellers who need to create and execute automated scripts to perform routine tasks within their security environment and are working towards their Check Point Certified Automation Specialist (CCAS) certification.
The CCVS course is designed for security engineers, users, and Check Point resellers who need to deploy and manage VSX solutions within their security environment and are working towards their Check Point Certified VSX Specialist (CCVS) certification. The following professionals benefit best from this course:
The CCMS course is designed for users and Check Point resellers who need to install, configure, and manage multiple security domains and are working towards their Check Point Certified Multi-Domain Security Management Specialist (CCMS) certification.
2. CompTIA Labs
This course is designed to help the learners with the CompTIA Security certification exam preparation and get started with Cyber security.
3. Labs related to Microsoft courses
SC-200: Microsoft Security Operations Analyst
The SC-200 course helps learners understand how to investigate, respond to, and hunt for threats using Microsoft Sentinel, Microsoft Defender for Cloud, and Microsoft 365 Defender. This course teaches how to mitigate cyber threats using these technologies.
MS-500: Microsoft 365 Security
The MS-500 course helps students learn how to secure their Microsoft 365 deployment and comply with industry data protections. This course focuses on securing user identity and access, threat protection, information protection, and data governance.
MS-101: Microsoft 365 Mobility and Security
The MS-101 course provides foundational knowledge on the three central elements of Microsoft 365 enterprise administration. It includes Microsoft 365 security management, Microsoft 365 compliance management, and Microsoft 365 device management.
SC-900: Microsoft Security Compliance and Identity Fundamentals
The SC-900 course provides foundational knowledge on concepts of security, compliance, and identity with a key focus on cloud-based Microsoft solutions. The course is ideal for professionals seeking fundamental knowledge of security, compliance, and identity, especially across cloud-based Microsoft services.
AZ-500: Azure Security Technologies
AZ-500: Microsoft Azure Security Technologies course is for those who are planning to take the associated certification exam or are performing security tasks in their day-to-day job. This course is also helpful to those who want to specialize in providing security for Azure-based digital platforms and play an integral role in protecting an organization's data.
Check out more courses by CloudLabs around cyber security.
Custom labs
CloudLabs can build custom labs which provisions an environment including multiple servers, security products etc. based on the custom requirement.
Conclusion
Cybercrime is increasing rapidly across the globe, and this has caused an increase in the demand for certified cybersecurity professionals. In this new reality, cybersecurity virtual labs are a much-needed requirement in the education sector.
CloudLabs is one of the best virtual lab platforms that has been constantly improving the quality of cybersecurity and IT education by providing multiple labs for these courses.
Contact CloudLabs to learn everything that you need to know about this virtual lab platform that can help in enhancing education around cybersecurity.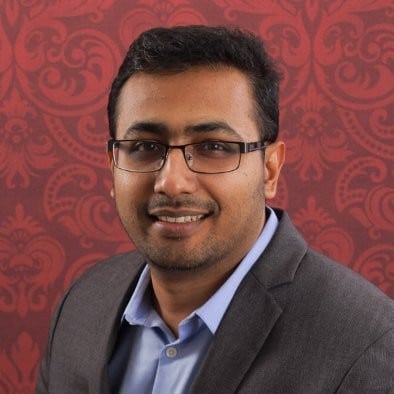 Manesh Raveendran is the CEO and Founder of Spektra Systems. He is known for his thought leadership and for crafting end-to-end technology solutions in cloud marketplaces. His passion lies in harnessing the potential of public cloud partnerships to drive business growth. With over two decades of experience, Manesh collaborates with global CXOs, designing innovative cloud solutions and services to drive customer success and address critical business challenges.