If you are a Microsoft Certified Trainer wanting to step up and widen your current training skills to the newly launched DP-203: Data Engineering on Microsoft Azure course, this MasterClass is for you. Level up your training skills in no time with an effortless upskilling experience.
Book your seat and gather useful tips, best practices, training methods and take a fresh approach as a trainer. We will have a webinar where our experts will demonstrate and lead you through a series of sections, modules, and demos using hands-on labs. Get ready to widen and deepen your expertise on the DP-203 course curriculum while getting full access to lab environments and practice tests.
Who is it for:
Any experienced and non-experienced MCTs or MVPs preparing to deliver DP-203 workshops.
MCTs/MVPs planning to prepare for DP-203 certification exam
Why you should join: 
Free 4 Hours Technical Deep-Dive Session by Neil Hambly, Azure Data Expert & Trainer
Lab environment Access for 5 days for hands-on readiness (worth $275)
Free Practice Test access for 30 days to get exam and training ready (worth $99)
24/7 Quick Support for any queries
Rev up your current training skills to deliver impactful DP-203 workshops
Meet Our Speaker:  
Neil Hambly 
Microsoft Certified Trainer (MCT)
Microsoft MVP – Data Platform
Microsoft Consultant – Data & Power Platform
Neil is a SQL Server consultant, founder, and consultant at Beacon Intelligence, a Gold Microsoft Data & Analytics Consulting company. With 20+ years of experience in a variety of SQL Server roles, he currently trains IT professionals to prepare and pass Microsoft certifications. He is known for his teaching techniques that generate great results.
About DP-203 Data Engineering on Microsoft Azure 
Azure Data Engineers help stakeholders understand the data through exploration, and they build and maintain secure and compliant data processing pipelines by using different tools and techniques. These professionals use various Azure data services and languages to store and produce cleansed and enhanced datasets for analysis.
Skills measured: 
Design and implement data storage (40-45%)
Design and develop data processing (25-30%)
Design and implement data security (10-15%)
Monitor and optimize data storage and data processing (10-15%)
For more info: https://docs.microsoft.com/en-us/learn/certifications/exams/dp-203
What do you get by signing up for this program: 
✓ Webinar session by Industry specialist  
✓ Lab Access for 5 days   
✓ Practice Test  
Cost:
Free for MCTs & MVPs  
Book your seat today!
Reserve your seat now, because space is limited.
Note: When you join this event via GoToMeeting, your name, email, and/or phone number will NOT be viewable by other session participants in the attendee list. By joining this event, you're agreeing to this experience.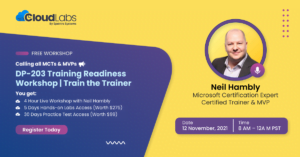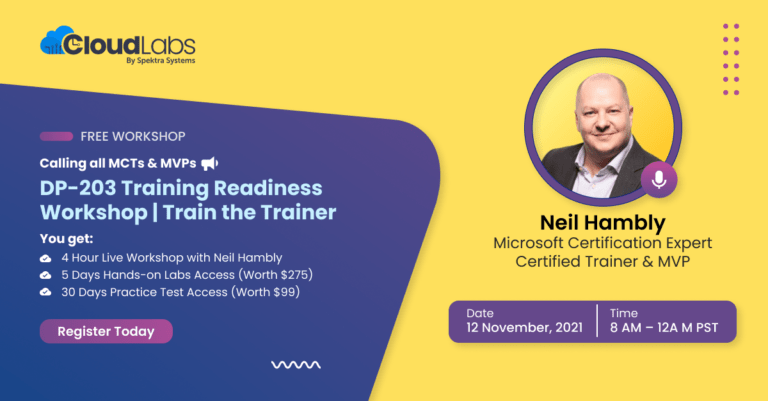 Jithin Varghese, a Product Manager at Spektra Systems, is known to excel in automating Azure resources and migration planning. As a former Cloud Consultant turned Product Manager, he combines design thinking, analytical prowess, and empathy to drive outstanding customer experiences and facilitates collaboration among cross-functional teams.