With everything going around the world due to the COVID-19 crisis, conducting workshops isn't the same anymore. I've had many in-person workshops scheduled around the Late March and April period which ended up getting rescheduled or were converted to virtual ones.
In this post, I'll talk about some of the best practices to follow when conducting a virtual workshop. While we can all agree to the fact that there's no true replacement for the physical in-person learning experience, let's accept the fact that virtual workshops are here to stay. We are changing the way we work, the way we learn and some of these changes may last forever.
With that, Let's get started.
Choosing the right technology and platform:
Virtual starts with technology, as a trainer you got to choose the best technology medium which works well for you and your students. There are various audio/video conferencing tools out there in marketing free to premium conferencing solutions. Popular ones include Microsoft Teams, Zoom, Skype , Google Meet, and many more.
I personally prefer using Microsoft Teams for all my virtual training and primary communications apps at work. Some of the key features of Teams for virtual workshops include the ability to share content easily and effectively, whiteboard, track assignments, and students' progress while maintaining a collaborative environment among the trainer and participants. Last I heard, Microsoft is offering a free 6 month trial for Teams.
It'd be a good idea to list down the capabilities you need in your audio/video conference app and choose the one that fits best for you and your audiences. Some important technology-dependent factors include the support platform (Desktop/Mobile devices), the bandwidth required, moderation capabilities, security, recordings, etc. Once you finalize, the next thing would be to be educated on the tool itself, get some training, schedule dry runs, and mock classes with folks from your inner circle and you're all set!
Video matters
Don't shy away and turn on those cameras, they help you connect with audiences. In this new COVID-19 affected world, it doesn't matter if you've got an untidy background or your kids walk in during the session; it's all well and accepted. People are more considerate and compassionate (which is a good thing, isn't it :)?
Doing video-enabled workshops helps you in observing your audience's reception towards the presented content and overall session. It is recommended to keep the video on.
Virtual workshops are here to stay!
Offer those labs
As a workshop attendee, the best part for me is those hands-on labs where I get to get my hands dirty on everything I've been learning and discussing. I may get forget something I saw someone teaching technology through a demo, but I'll rarely forget something I built myself in the hands-on lab sessions. That's the impact hands-on labs have.
In in-person sessions, trainers have the liberty to walk around the room, observe participants' progress by sneaking into their screen's and help them without delay if needed. That's where virtual workshops become tough, it's not easy to watch what your participants you are doing and helping them become a tedious job with 1:1 communications and screen share channels. It can easily get out of control if you've got a large crowd even if you've got proctors to help you.
We at Cloud Labs are passionate to provide greater workshops experience to our trainers and students and try to bridge the gap between hands-on lab sessions in a classroom versus the virtual ones. Our lab's platform includes native capabilities around progress tracking, effective distribution of labs, and provides the control in hands-on instructors to run the show through our self-service portal. Some of our newest capabilities include instructors being able to shadow lab environments of multiple students at a time without interrupting any of the student's lab experiences. Learn more about virtual workshops through CloudLabs here
Clear goals and teams
It always helps to keep participants engaged and make them feel accomplished when we set goals and purpose before starting a session. Define the clear goals with expected outcomes and have the participants work and collaborate towards those. It helps if you divide them into teams and keep a team-level leaderboard, the spirit of winning always helps in keeping people engaged and motivated. It also ensures that no one's left behind 🙂
Keep it interactive
The biggest fear of a trainer during virtual workshops comes true when the audience loses the motivation to stay attentive during the session. Nothing worse than that.
While with hands-on labs, folks are interested in trying out, building, and destroying stuff in lab environments, having a simple quiz, poll, or survey helps to keep them involved. Make use of them as effectively you can, keep some funny quizzes in your back pocket, and use them when you feel the need to do so.
Here are some additional tips which might come in handy during a virtual workshop and helps run an effective workshop.
Keep a second monitor if you plan to share your screen.
Publish the agenda well before the session with clear expectations.
Keep it collaborative and continuously monitor the energy in the session.
Have some fun games, quizzes, and even giveaway's if you can.
Ask for feedback/suggestions during the session on pace etc. through polls.
Keep a standard FAQ document and self-help reference for any technical issues.
Keep the guides and documentation as simple and as descriptive.
If you're providing hands-on labs, ensure that they are running on high-performing hardware with good bandwidth to ensure remote access doesn't impact the lab experience.
We all hope to get over the pandemic soon and be back our all-time favorite physical classroom workshops. Until then, our team at CloudLabs is committed to helping you schedule successful virtual workshops and provide a better learning experience to everyone. Talk to us today about your needs.
Stay safe and keep learning.
Amit Malik
Director of Technology @ Spektra Systems.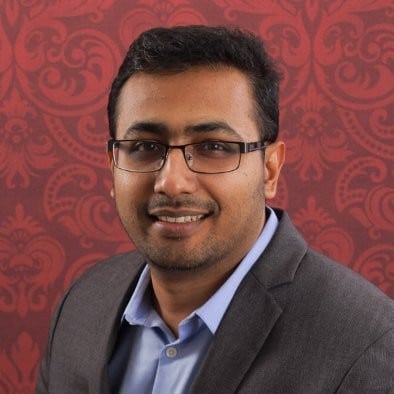 Manesh Raveendran is the CEO and Founder of Spektra Systems. He is known for his thought leadership and for crafting end-to-end technology solutions in cloud marketplaces. His passion lies in harnessing the potential of public cloud partnerships to drive business growth. With over two decades of experience, Manesh collaborates with global CXOs, designing innovative cloud solutions and services to drive customer success and address critical business challenges.