A hackathon is the perfect, dynamic event that creates an innovative playground for the sharpest minds, coders, engineers, and technology enthusiasts to come together and propose new ideas or solve predefined challenges within a specified timeframe. Hackathons can be done virtually or physically and can be for both internal organizational goals and external outreach. 
This article covers: 
What is a hackathon?

 

What are the benefits of a virtual hackathon?

 

How to host a virtual hackathon?

 

How CloudEvents can help in organizing a virtual hackathon?

 
Let's get started. 
What is a virtual hackathon?
A hackathon is a gathering where teams come together to brainstorm solutions to challenging issues in a short period of time. Hackathons typically range between 24 and 72 hours and take place over a single weekend. Organizations can also hold shorter versions of these events called mini hackathons. 
What are the benefits of a virtual hackathon?
Virtual hackathons are conducted online. Let us explore the benefits of virtual hackathons: 
Less Costly 
Traditional hackathons can cost upwards of six figures (USD) due to multiple factors such as meals for the participants, venue, logistics, travel, and other utilities required for the event. The cost of even a modest internal hackathon can be up to several thousands of dollars. Virtual hackathons require far less administrative work with very little logistical support. Things like software, digital infrastructure, and equipment will probably account for most of your cost but if you are a remote-friendly business, you may already have many of these essential tools. 
Customizable Environment 
Virtual hackathons encourage the concept of work-from-home, meaning, every participant gets to personalize the settings and establish a productive workspace. Less distractions for participants in a work-from-home environment leads to increased productivity and even better sleep. 
Rich Diversity 
You might be able to attract a more diverse crowd to your virtual hackathon because online events don't have any limitations of location, travel time, or out-of-pocket expenses. Teams from all over the world can participate because the only thing they need is decent internet connections and computers. 
Effective Training 
Virtual hackathons involve remote team collaboration. Workers must communicate, delegate, demonstrate, and negotiate all from behind a computer screen. Employees will benefit from learning and mastering these team-building techniques long after the event is over. You can ready your teams to work from home by posing challenges that need them to collaborate in a time-constrained setting while working remotely. After the hackathon, your teams will be accustomed to working together on computers. 
Tips to Host a Virtual Hackathon
Organizers must determine the initial factors before hosting a hackathon. Here are some key decisions you need to make prior to hosting your next virtual hackathon. 
Decide the theme 
All hackathons start with an idea and a theme such as finance, medicine, e-commerce, or entertainment. You can narrow down the options based on specific objectives or by posing a specific question. Identify these objectives early on to better conceptualize the event and set up an event goal. Build the theme around this goal to ensure higher quality results that offer real solutions. 
While you should promote the overall subject to draw in potential participants, you shouldn't give away too much about the prompt ahead of the event. Not revealing particulars while introducing the online hackathon ensures that teams work in real-time and cannot present a pre-made product. Since the nature of the virtual event limits your monitoring abilities, this approach helps you drive fairness. 
Know the Expected Attendee Count 
While it is easy to know the exact participation count for internal hackathons, it may get a little tricky when you are hosting it for an external audience. Nonetheless, it is crucial to know the expected attendee count even if it is an approximate number. Building virtual environments requires cloud resources that need pre-setup and have to go through a validation process that requires time. Not to forget, these resources cost money based on usage. Therefore, getting the participation count at the early stages is critical. 
Choose the Right Platform 
Partnering up with the right platforms is half the battle won. Choose the platform based on user-friendliness, fast onboarding, and easy configuration that requires the least of your involvement. The platform must have the capabilities to give you a comprehensive experience. You should be able to perform various stages of management, enable participant engagement, easily appoint proctors, and collaborate efficiently. The capabilities of a powerful hands-on experience can make a huge difference and should be carefully considered before hosting a virtual hackathon. 
Promote Your Virtual Hackathon
Once you have the event framework ready, you can move on to the next step – naming the event and marketing. Do not take this step lightly, because having the right marketing strategy has a huge impact on the outcome of the hackathon. Drive better outreach through various social media marketing channels, email campaigns, and ads. You can also post about your hackathon in relevant online communities to spread the word. It is advisable to create a landing page for the virtual hackathon to drive traffic and registrations. Remember, a perfect hackathon requires quality participants and with good marketing, you will be able to broaden your chances significantly. 
Track Registrations 
Online events offer more flexibility than in-person events, however, proper organization is still crucial. You should employ a formal registration process with a firm cut-off date to encourage attendees to take the event schedule seriously. You can monitor the registration process to project attendance and can even use sign-up messaging to boost excitement. Consider posting sentiments like "Join now and start your problem-solving journey!" to drive more traffic. You can reduce sign-up time by forming teams (if attendees sign up as a group instead of single participants) and performing technology tests. 
Appoint Coaches and Mentors 
A good hackathon is when you gain ground-breaking ideas. A great hackathon is when you give opportunities to participants to sharpen their skills. Appoint eligible mentors and coaches for participants interested in upskilling. It is extra helpful if the hosting platform you choose provides a systematic and organized way to perform such tasks. 
Run a Dress Rehearsal 
The problems related to technology might seriously ruin your event. Participants in hackathons have a limited amount of time and fixing technical problems can take a big chunk out of it. You can conduct a dress rehearsal before the event to get rid of probable drawbacks and annoyances. 
To conduct a virtual hackathon dress rehearsal, provide teams with early access to the software that will be utilized at the event, and ask participants to test the systems properly. Your IT team should be available to aid attendees through live chat, and you should make sure that everyone has access to the support team's contact details. Additionally, you might want to include some extra time in your schedule just in case something goes wrong. 
Create Participant Engagement 
Even though hosting a hackathon virtually has many advantages, it comes with few drawbacks. One of the challenges of virtual events is the lack of face-to-face interaction and networking opportunities. This creates uneven and passive participant engagement. This poses a real threat for organizers, as the entire idea behind hosting a hackathon is based on collaboration. However, this challenge can easily be tackled by including virtual social events on your event schedule. You can also include an efficient collaborative mechanism integrated into the platform that helps and encourages participants to engage with one another. There are various integrations available to achieve this, check with your hosting partner for more information. 
Appoint Panelists and Judges 
Typically, at the end of a hackathon, judges are required to review submissions and present their scores. It is important to host it on a platform that offers an efficient way to do this because it can get very confusing and unmanageable to review based on many parameters. 
Provide a Food Stipend 
Hackathon participants run with a marathon mentality, stopping only for food. Preparation of meals might stop your attendees in their tracks, and forgoing food entirely can ruin the event. You might not be able to arrange for a pizza to be delivered to each participant's home, but you can offer a lunch allowance so that registrations can place food orders without impacting the workflow.  
Post Event Recap 
After the hackathon ends, take time to think back and summarize the whole event. You can invite guests to share their experiences while highlighting the most original and skillfully executed ideas. You should give the guests a survey after the event. You can go into more detail about the event in your blogs, social media posts, and newsletters. Keep in mind that you can use these thoughts to advertise upcoming events. 
Send Out a Goodie Bag 
You should still send gifts even if your guests cannot pick them up in person. Before the event, you can send out promotional gifts to your attendees to enhance the experience.  
Goodie bag item options: 
Notebooks

 

Pens 

 

T-shirts

 

Headphones

 

Pen-drives

 

Laptop sleeves

 

Stickers

 

Mouse pads

 

Portable charger

 
When recipients receive the package and post images of their goodies on social media, this gesture could generate organic publicity for your event. Create a digital goodie bag instead if your guest list is too big to give items to attendees individually. You can send electronic presents via email instead of sending tangible items. 
How CloudEvents can help you organize amazing virtual hackathons?
CloudEvents, integrated with powerful hands-on lab provider CloudLabs, offers a comprehensive platform for organizers seeking to host virtual events. CloudEvents specializes in hackathons and has hosted hackathons for Microsoft, Solliance, VMware, and many more leading giants. 
CloudLabs offers a customizable platform that gets you on board in minutes, processes your requirements and gets the ball rolling for your next hackathon. You can not only host hackathons efficiently but also create a lasting impact.  
Here is what CloudEvents offers: 
Access from anywhere: CloudLabs virtual labs can be accessed from anywhere across the world. This remote access to virtual events enables ISVs to boost their reach and participation of these events.  
Collaborative environment: The labs enable effective collaboration and communication between participants and instructors in real-time. 
Highly compatible: CloudEvents supports Azure, AWS, and GCP. You can host events based on the cloud platform of your choice. 
Lab insights: Gain in-depth insights on participation, attendance, and the total time users have spent using the labs. Improve your outreach accordingly. 
Rapid scalability: Host events with the required number of seats as per your requirements with the option to scale with on-demand labs during the events as well. 
Control lab uptime: Have full control over the maximum uptime of the cloud resources with customizable automated features to shutdown idle lab environments to control event budget. 
Safety and security: CloudLabs' shadowing feature and alert mechanism ensures appropriate usage of cloud resources while adhering to data compliance to protection regulations. 
Multi-track capabilities: Save time by hosting multiple tracks simultaneously under a single event and give liberty to the attendees to choose the track based on requirements. 
Networking and interaction: Breakout sessions with MS Whiteboard take an interactive approach to how collaboration is done. Discuss ideas, resolve queries, or host lectures that create interest 
Complex events: Conduct complex hackathons with fully manageable lab environments where attendees can join as a group. Admins can also easily sign up and create teams and groups as per event requirements. 
24×7 support: The Live Support team is available to the user for 24/7 consultation, to provide aid for any technical or non-technical issues that may arise. 
Conclusion 
While virtual hackathons may not provide the exact experience as traditional hackathons, the online versions of these events also encourage radical innovation, creativity, work ethic, and collaboration. 
The key to evaluating the success of digital hackathons, and any online industry event, is not to compare the event endlessly to the physical counterpart, but rather to utilize and take advantage of the merits of the web-based platform. 
Book a free meeting if you want to know more about how you can use CloudEvents to organize an amazing virtual hackathon. 
Found it useful? Press Ctrl + D to bookmark this page for future reference.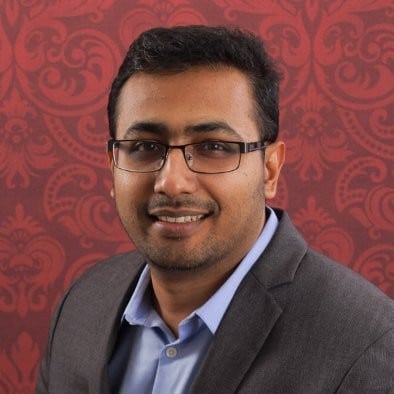 Manesh Raveendran is the CEO and Founder of Spektra Systems. He is known for his thought leadership and for crafting end-to-end technology solutions in cloud marketplaces. His passion lies in harnessing the potential of public cloud partnerships to drive business growth. With over two decades of experience, Manesh collaborates with global CXOs, designing innovative cloud solutions and services to drive customer success and address critical business challenges.